Forest training centre: rental costs of more than 20,000 per month for unused land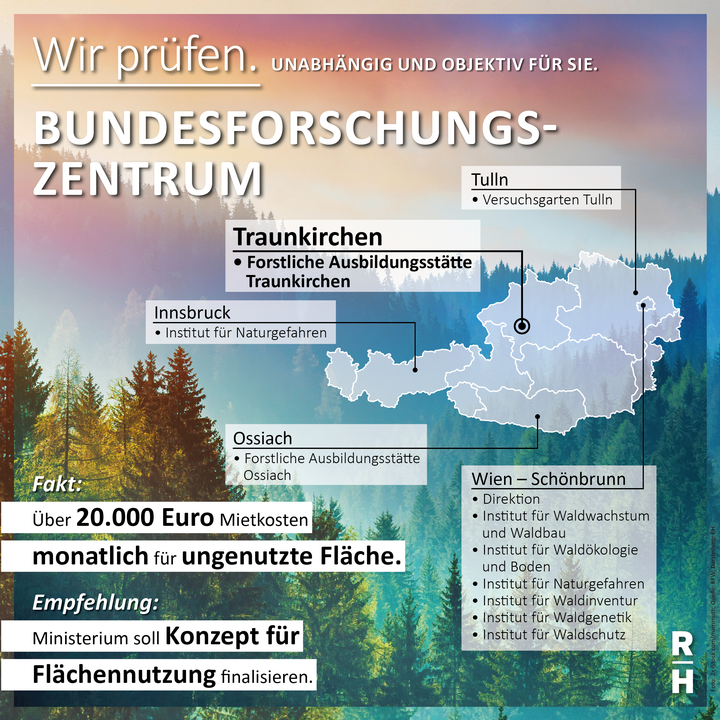 In its report published today on the "Federal Research and Training Centre for Forests, Natural Hazards and Landscape" (in German) the Austrian Court of Audit (ACA) points to difficulties in the financial planning of the Federal Research Centre. The ACA's findings also highlight the Forest Training Centre Traunkirchen in Upper Austria, which has been a location of the Federal Research Centre since 2018. In Traunkirchen, vacancy costs amounted to more than EUR 20,000 per month. The audited period spanned the years from 2014 through 2018.
Annual additional funding does not suffice
From 2014 to 2017, the Federal Research Centre saw a massive decline in net income, namely from EUR 225,000 to EUR 4,000 (98 per cent). In its report, the ACA points in particular to the increase of staff-related expenses, which rose from EUR 16.66 million in 2014 to EUR 17.77 million in 2017 (seven per cent). From 2016 on, the then Federal Ministry for Sustainability and Tourism provided additional annual funding in order to balance the increase in costs. The revenue and basic grants did not suffice. In its report, the ACA critically points out that the necessary additional funding has merely a transitional effect. The reason behind this is that a new funding gap is expected to emerge from 2022 onwards. The ACA recommends to the Federal Research Centre and the Federal Ministry of Agriculture, Regions and Tourism to develop a sustainable and viable funding concept.

The location at Traunkirchen: a quarter of the useful land is vacant
In autumn 2018, the ministry and the Federal Research Centre planned to reduce the rental costs to a maximum of EUR 500,000 per year via the merging of the Forest Training Center Ort in Upper Austria with the Forestry School Waidhofen/Ybbs in Lower Austria at the new location in Traunkirchen. However, this project objective was not attained. The acquisition of the pupils' home and the expansion of the useful land resulted in rental costs totalling EUR 930,000 per year. A quarter of the useful land (about 3,800 square metres) was vacant at the time of the ACA's audit. Consequently, vacancy costs amounting to 20,300 per month for unused land have been accrued since October 2018, which were borne by the ministry. The ACA criticises that the ministry neither had a usage concept for vacant areas in place nor paying tenants and recommends therefore to swiftly finalize the concept for land use.