Fulfilment of Tasks and Operational Readiness of Engineer Battalion 3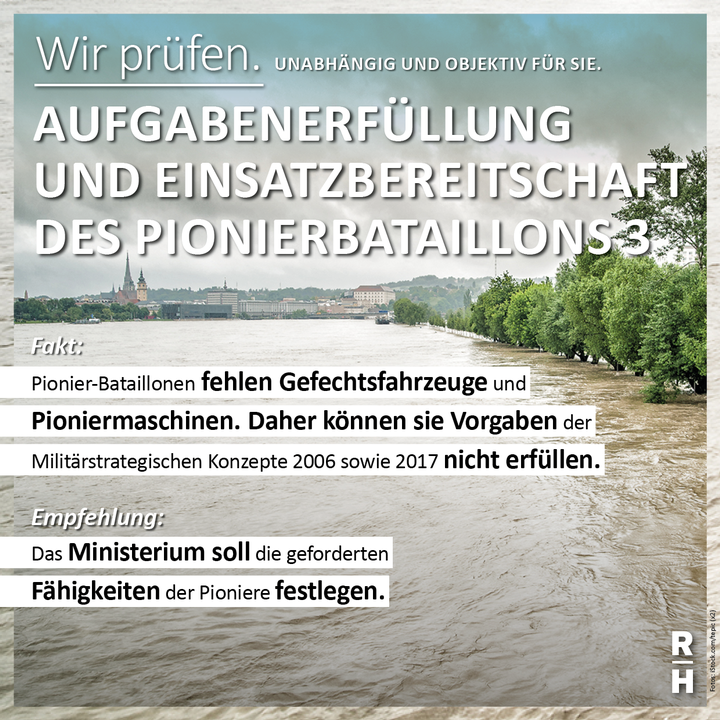 From June to September 2020, the Austrian Court of Audit (ACA) carried out an audit of the Federal Ministry of Defence on the "Task Performance and Operational Readiness of Engineer Battalion 3". The audit aimed at presenting and assessing the scope of tasks, the strategic concepts and the strategic planning, the human and material resources as well as the expansion of the location assigned to Engineer Battalion 3. The audited period essentially spanned the years from 2016 through 2019. Furthermore, the ACA also took current developments into account for this audit.
Central recommendations:
Within the framework of an evaluation, the skills that sappers need to have now and in the future for the performance of tasks defined in the Constitutional Law (including assistance deployments) would have to be determined. Based on that, the availability of the resources necessary for such a performance of tasks would have to be ensured.
In the further development of the Armed Forces, attention would have to be paid to the operational feasibility of the strategic planning.
In terms of administration and labour-related matters, sustainable overall solutions should be reached in future, especially for large construction projects, with the aim of merging units locally and thus attaining sustainable cost savings.
The responsible stakeholders should outline in a comprehensible manner whether and to what extent the establishment of an expert unit "Sapper" in the Joint Forces Command could contribute to a functional and contextual coordination of sapper-related matters.
Construction projects should be accompanied by effective project controlling in order to analyze deviations from the cost, time-bound and performance targets, to initiate timely countermeasures and to prevent or minimize additional expenses.