Report on the Federal Financial Statements 2020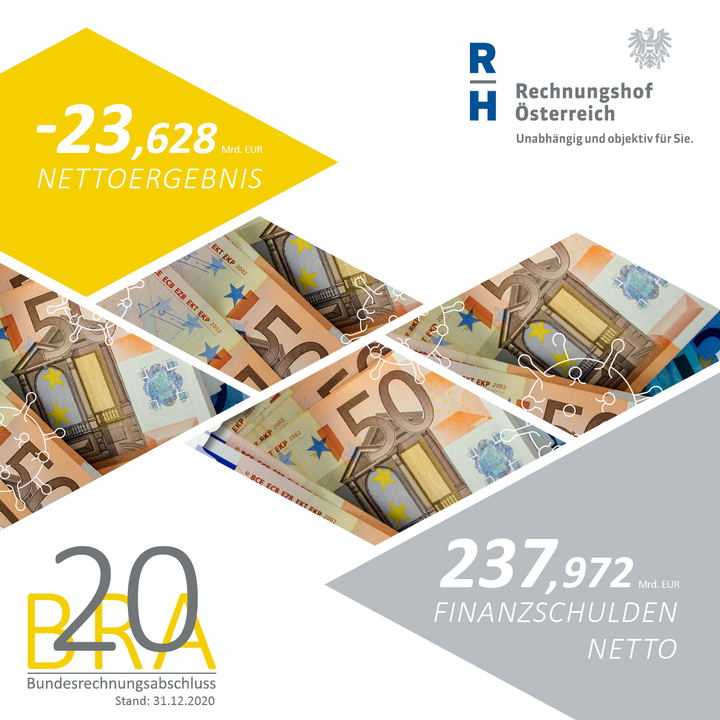 Both the operating statement as well as the cash flow statement showed a considerable deficit. This was, on the one hand, due to the financing of various measures to fight the COVID-19 pandemic and, on the other hand, the crisis-related economic downturn.
The measures financed via the COVID-19 Crisis Management Fund amounted to EUR 8.5 billion. Tax reliefs led to a shortfall in payments of EUR 6.4 billion.
The payments made for COVID-19-related short-time work allowances totalled EUR 5.5 billion.
Please note that the download of the documents below may take some time due to the large volume of data.
Financial Statements in CSV Format (in German)

Statement of Financial Position – Long Version
Cash Flow Statement – Long Version
Operating Statement – Long Version
Statement of Comparison of Budgeted and Actual Amounts Operating Statement – Expenditure
Statement of Comparison of Budgeted and Actual Amounts Operating Statement – Revenue
Statement of Comparison of Budgeted and Actual Amounts Cash Flow Statement – Outflows
Statement of Comparison of Budgeted and Actual Amounts Cash Flow Statement – Inflows
Statement of Comparison of Budgeted and Actual Amounts Cash Flow from Financing Activities – Outflows
Statement of Comparison of Budgeted and Actual Amounts Cash Flow from Financing Activities – Inflows
Statement of Comparison of Budgeted and Actual Amounts Operating Statement – Broken Down by Allocation and Appropriation Groups
Statement of Comparison of Budgeted and Actual Amounts Operating Statement – Broken Down by Budget Chapters and Allocation and Appropriation Groups
Statement of Comparison of Budgeted and Actual Amounts Cash Flow Statement – Broken Down by Allocation and Appropriation Groups
Statement of Comparison of Budgeted and Actual Amounts Cash Flow Statement – Broken Down by Budget Chapters and Allocation and Appropriation Groups
Statement of Comparison of Budgeted and Actual Amounts Cash Flow from Financing Activities – Broken Down by Allocation and Appropriation Groups
Supplementary Budget Documents (in German)

Budget Chapter 01 Office of the Federal President
Budget Chapter 02 Federal Legislation
Budget Chapter 03 Constitutional Court
Budget Chapter 04 Supreme Administrative Court
Budget Chapter 05 Austrian Ombudsman Board
Budget Chapter 06 Austrian Court of Audit
Budget Chapter 10 Federal Chancellery
Budget Chapter 11 Internal Affairs
Budget Chapter 12 Foreign Affairs
Budget Chapter 14 Military Affairs
Budget Chapter 15 Financial Administration
Budget Chapter 16 Public Expenditure
Budget Chapter 17 Civil Service and Sport
Budget Chapter 20 Labour and Employment
Budget Chapter 21 Social Affairs and Consumer Protection
Budget Chapter 22 Pension Insurance
Budget Chapter 23 Pensions – Civil Servants
Budget Chapter 25 Families and Youth
Budget Chapter 31 Science and Research
Budget Chapter 32 Arts and Culture
Budget Chapter 33 Economy (Research)
Budget Chapter 34 Innovation and Technology (Research)
Budget Chapter 42 Agriculture, Regions and Tourism
Budget Chapter 43 Climate Action, Environment and Energy
Budget Chapter 44 Financial Equalization
Budget Chapter 45 Federal Assets
Budget Chapter 46 Financial Market Stability