Equity interests of the city of Krems and the municipality of Leonding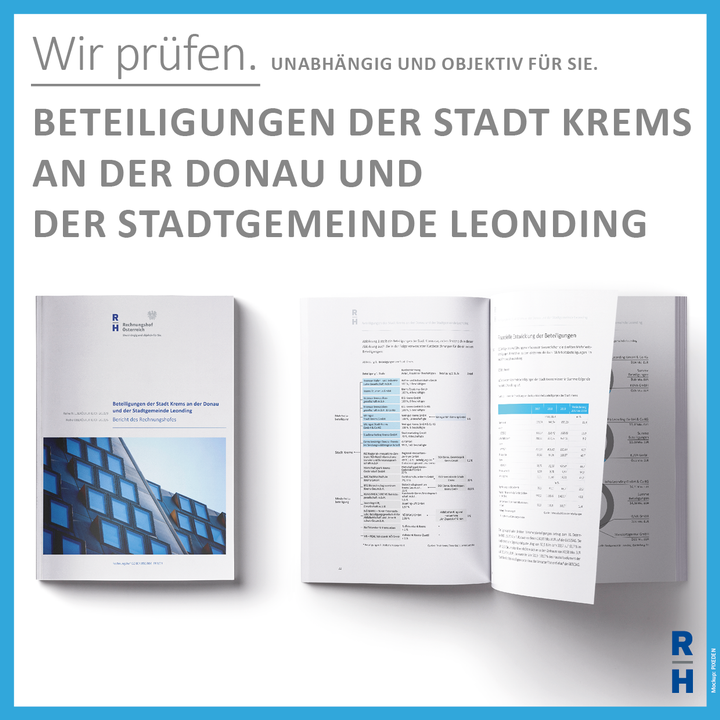 From February to July 2020, the Austrian Court of Audit (ACA) carried out an audit of the equity interests of the city of Krems an der Donau in Lower Austria and the municipality of Leonding in Upper Austria. The audit aimed at assessing the motives for spin-offs, the presentation of the financial interlinkages and the evaluation of the exercising of ownership rights, the scope and organization of the equity interest management and the application of the Public Appointments Act (Stellenbesetzungsgesetz).
The audited period spanned the years from 2017 through 2019.
Central recommendations:
Regulations and guidelines should be established for the management of equity interests. These should contain the basic principles for an efficient and effective performance of tasks by the entities responsible for equity interest management. The management of equity interests should comprise all equity interests and correspond to the importance of the equity interests for the fulfilment of the municipality's tasks and to the resulting financial risks.
It should also be determined for which areas of responsibility the provision of services in spin-offs is suitable. This should also include an assessment of whether a service can be provided more efficiently by the municipality itself or through an equity interest.
A monitoring and risk management system tailored to the equity interest portfolio should be established.
Together with the equity interests, the company-specific requirements for an internal control system should be determined. Subsequently, an appropriate internal control system adapted to the requirements of the respective equity interest should be set up. In this context, particular attention should be paid to a consistent implementation of the four-eyes principle.
With regard to potential conflicts between the objectives and interests of the city or municipality and those of the equity interests, persons should be appointed to supervisory boards who are able to perform their duties in an unbiased manner.