Income Report 2017 and 2018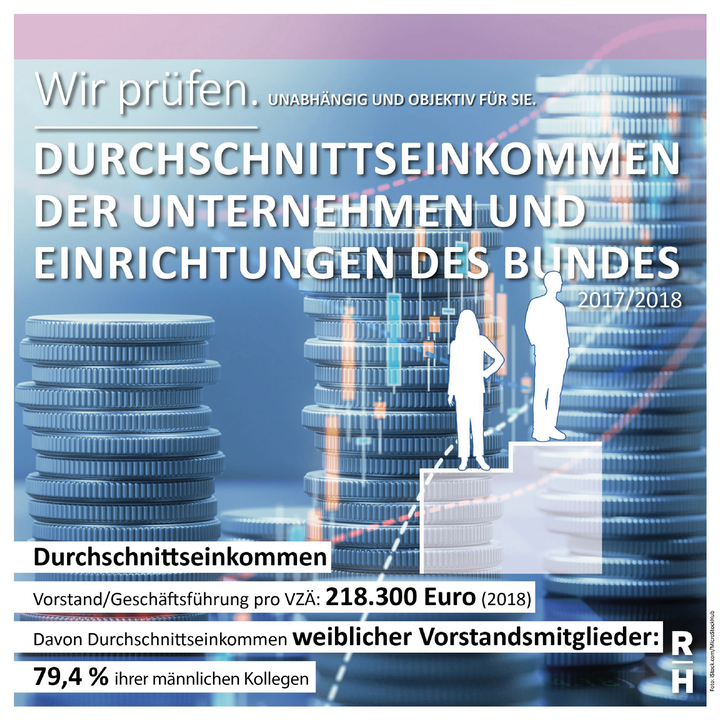 Every other year, the Austrian Court of Audit (ACA) publishes the income data of those companies and federal institutions that are subject to its audits. The income data shown in the report are submitted by the companies and institutions themselves and are subsequently analysed and structured by the ACA. For 2018, data on 238,916 employees, 1,754 supervisory board members and 637 executive board members were collected at 427 companies and institutions.

Executive boards: average income at EUR 218,300 (2018)
The average income of the members of executive boards accounted for EUR 211,400 and EUR 218,300 for 2017 and 2018 respectively. The line of business with the highest average income was "transportation and storage" (section H) with EUR 377,400 (2018), among others with companies and institutions such as the Austrian Post, Rail Cargo Austria AG, ÖBB–Infrastruktur AG (Austrian Federal Railways rail infrastructure), ÖBB–Personenverkehr AG (Austrian Federal Railways passenger transport) as well as the Autobahnen– und Schnellstraßen–Finanzierungs–AG (Austrian motorway and expressway corporation).
Employees in the financial and insurance sector receive the highest income

Across all lines of business, employees in companies and federal institutions received an average income of some of EUR 54,100 (2017) and EUR 55,200 (2018); the highest average income was obtained by employees in the field "financial and insurance activities" (section K) with EUR 88,400 in 2018 in companies and federal institutions such as the Oesterreichische Nationalbank (central bank of Austria), the Sozialversicherungspensionskasse AG (social insurance pension fund company) and the Austria Wirtschaftsservice GmbH (governmental bank for the promotion of Austrian companies).

Few women in executive boards – with less income
The share of women in executive boards was at 21.6 per cent in 2018 and remained relatively constant over the last years (20.5 per cent in 2017 and 2016). As regards the supervisory boards, the share of women was at 31.4 per cent in 2018, representing an increase compared to 2017 (30.6 per cent) and 2016 (28.2 per cent). The income of female board members and/or executive directors averaged EUR 180,285 in all lines of business in 2018: this equalled only 79.4 per cent of the average income of their male colleagues (EUR 227,179).

Pension contributions at EUR 543.71 million in 2018
In 2018, additional contributions to pensions for former employees and their relatives accounted for EUR 543.71 million (for 24,659 persons). In 2017, such additional contributions amounted to EUR 540.07 million for 24,674 persons. This includes all pensioners as well as the surviving dependants of former employees, chairpersons of executive and supervisory boards and of members of executive and supervisory boards.